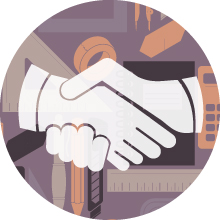 The reason I hire a mechanic is because I don't know how to fix a car. Thankfully, my mechanic, George, is great at it! Even better … he keeps me informed at every step. He's not just my mechanic—he's my partner in keeping my car running smoothly. And because of him, I know a lot more about fixing cars than I used to.
I believe professional service providers have a duty to provide great service AND to involve clients in the process.
That's why it is so important that graphic designers walk clients through their process. Clients should know what to expect when working on a project, from start to finish. In fact, "How do you work?" is the top question new clients ask me—and I'm happy to answer it every time. If you're interested in learning more about my process, you can check it out here.
Is your graphic designer a creative partner? Here are 6 ways to tell:
You receive an estimate that clearly details the project specifications and the work that will be done.
You are provided with a complete project schedule so you know what stage your project is in at all times. (When you will receive design drafts, when revisions are due from you, when completed revisions are due back from your designer, and of course, the final delivery date of your project.)
Your designer is available and responds to you within a reasonable amount of time. (You don't go days or weeks wondering where they went with your project.)
Your designer offers suggestions and insights that add value to your project. (For example, many print projects are also used as web PDFs viewable on an organization's website. When appropriate I have suggested creating an interactive web PDF. Some of the value-added features and benefits include: Call to action with direct link to "donate now" page, shareability on social media with tweetable links, and the ability to incorporate video storytelling.)
Your designer understands your organization, its goals and the goals for the project they are working on. The design is developed with these goals as a priority.
BONUS! Your designer catches mistakes you may have missed. (True story: I had a client who accidentally misspelled Santa Claus. Happy to say I caught that one!)
Graphic design is very different from auto repair, but they are both professions where open communication results in a fruitful partnership. A partner is involved in strategy—they see the big picture behind your project, help you reach your goals, and suggest value-added options you may have not realized.
If you want a creative partner on your organization's side, I'd love to talk about how we can work together.