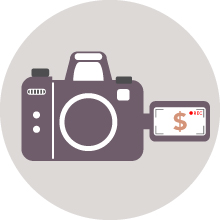 Did you know that if your nonprofit's YouTube channel has over 10,000 subscribers, you can use the YouTube studios in Los Angeles for free once a month? This is just one of many cool things I learned last month at the Social Media for Nonprofits Conference (which was held at the YouTube offices).
Whether your organization has tens, hundreds or thousands of subscribers (or if you haven't started using video yet), video is an amazing opportunity to emotionally connect with your audience through visual storytelling, inspire people to take action—and also get more subscribers and supporters.
Before you start: I've talked about planning before (in 6 Simple Tips for Social Media Success and 3 Tips for Embracing Change) because planning is key to having a successful project that meets your goals. For video to be an effective communications tool for your organization, it needs to have a strategy and a clear message directed to your target audience. Planning and creativity must come first. Now, here are some tips and resources for the production of your video…
Lighting
Lighting has a huge impact on the quality of how your video looks. It's important to understand the basic, three-point lighting technique to get you started. At the workshop, we got to do hands-on practice of this setup and we could immediately see the huge difference the lighting makes on how your video looks. If you're going to be shooting outside, a reflector is an excellent tool to add warmth to your subjects' faces and get rid of shadows. This 5-in-1 reflector costs around $20 on Amazon and is what the YouTube experts recommend.
Camera
Depending on your budget there are many options out there, but most of us already have a camera in our pockets—our smart phones. You can get creative like the people at Wistia who have a great video on how to use your iPhone for professional videos.
Audio
The microphone on your camera might be OK for the video you are making, but if you want to be like the pros, a separate microphone is essential. For "man on the street" type interviews, a hand-held microphone is a must. For a testimonial, a boom microphone might work best. For an in-studio shoot with multiple people, you'll probably want individual lavalier mics on everyone who will be talking.
Resources
Lighting
5 in 1 Reflector
Your iPhone + $100 = Professional videos for your business
Camera
Audio
Microphones Types and Uses
Free Music
Free Sound Effects
YouTube Nonprofit Resources
YouTube Nonprofit Program
You Tube Playbook for Good
Are you just getting started making videos for your organization? If so, I hope these resources are helpful to you.
How are you using video to gain support? Feel free to email or tweet me links to your organization's videos or your favorite nonprofit videos. I'd love to see them!