Why choose me?
Because you'll get everything you need.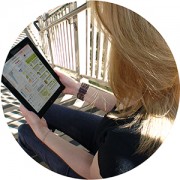 Hi, I'm Andrea Brody. Over the past 10+ years, ongoing partners have told me (as I blushed!) that I'm different from other designers. They tell me it's why they keep coming back and sending referrals. Clients say I'm unique because:

I'm a creative organizer of ideas. I take unclear, complex, or bountiful information and help organize it visually so your audience clearly understands the message.
I do the research

and learn about the project and your organization upfront. Having knowledge and a thoughtful process behind your design makes the end result so much more impactful.

I do what I say. I'm going to answer your email promptly. I'm going to call you back. I'm going to give you the first layout when I said I would.
I look at the whole picture. I'm really detail-oriented. I want your project to be consistent and perfect. Not just my part, but the project as a whole. I like to check everything – so you can be sure every little detail is covered.
I care about giving you the best result. When you hire me, I take care of everything. Your end result becomes very important to me, and I give my 100% to ensure it turns out exceedingly well.
I'm also a passionate wellness professional. As a Certified Pilates Instructor and a yoga teacher—I have seen first-hand the positive change that is possible through enhanced wellness and balance.
---
Can a partner make your job easier?
I believe it's a must.
Picture this: you're busy, and you need someone who can create a beautiful, smart and effective communication piece with minimal hand-holding. We talk. You hand the project over to me—and feel relieved. Then, it gets done just right. This is what I do for partners, and it's what I'll do for you. As my partner:
You'll get an experienced partner who is invested in your long term success and will bring ideas and suggestions to the table – so you don't have to do it all yourself.
Your time will be honored. I ask the right questions so everything you need gets addressed. You won't have to spend tons of time explaining, because I will listen deeply and do my research. When you receive the first layout, you'll know that I got it. Then we will tweak and finalize without wasting your time.
You'll get solutions based on your needs. My process helps me get the information I need to visualize possibilities, see solutions, and communicate your message the right way: based on you, your unique situation and your goals.
You'll get results. I do the research to understand your organization and to find what will help you stand out. Everything I show you is based in extensive research and well thought out—so you'll get results.