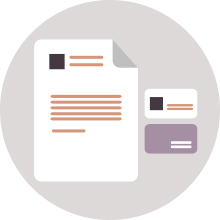 Have you ever gone to your favorite restaurant and had terrible service?
Bought one of your stand by products only to find that they changed the formula and it doesn't work the same way?
Gone to the grocery store to get a few basic items and they were out of all them for the third week in a row (this really happened to me!)
What do all these situations have in common? Inconsistency.
How do they relate to branding? Consistency is a key component to success. It builds familiarity and trust, and when people have that trust and recognition in your brand, they are on the way to becoming loyal supporters.
What do you need to do? It's simple. Be consistent in your brand messaging. Having a brand guideline book is essential for making sure your entire staff has the tools and resources to do this.
A few more tips:
In your marketing make sure the visuals all have a consistent look and feel.
The tone of voice in your overall messaging should be consistent as well.
Have a few set templates for your social media posts so they all have a consistent look.
I know when I have consistently good service and interactions with a brand I remain a loyal customer. My loyalties are now with another grocery store because they have my must-haves in stock!
Want to define your authentic brand story and represent it consistently? I can help you with my Brand Identity Package. Want to see if it's a good fit for your needs? Let's talk.