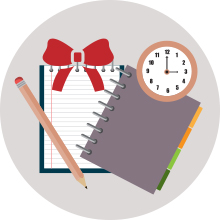 One of the biggest gifts I give myself every year is to my plan my marketing in advance for my business. If you can pull together a few hours during this busy month, it's really worth it. It feels great to start the new year with a plan! Of course, as the year moves along, things come up and plans change—but a plan takes the pressure off.
First, I think it's important to know what's working and what's not to start the year off right. You don't want to keep doing the same things over again if they're not getting results. To plan for the year ahead, start with my favorite end-of-year method for marketing clarity. Think about what worked well in 2015—and what didn't. Make a list divided into two columns: 1) marketing efforts that are reaching goals and 2) marketing efforts that aren't.
Next, think about content. This can be as simple as putting together a list of possible topics that will be relevant for your audience. Whether it's newsletter content or event theme ideas for your annual dinner, take a few minutes to brainstorm and write a few topics and notes down on paper. You'll feel miles ahead when 2016 begins.
Need support planning for 2016? I'd love to help you organize and streamline your marketing efforts. Let's talk about how in a free 30-minute consultation.