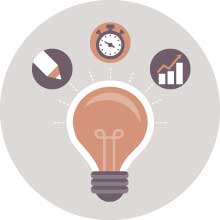 If you know you need to assess your marketing for the year, but are worried the task will take weeks, try my favorite method. A dedicated-day will be plenty of time (and you'll have time for candy cane breaks).
Part 1: Lay everything out on a large conference table—all the print materials, plus screen shots of your website and social media pages. Something about seeing everything all together really helps answer these two questions. Set timer for 60 minutes.
Do all the materials look clean and professional?
Do they all have a consistent brand look and feel?
If you have some that don't, simply write a note or two and set them aside.
Part 2: Sit at your computer and look through your website, blog and social media posts. Set your timer for 30 minutes per section—and ask yourself these questions:
Content:
Is the content on the website up-to-date?
Do you have only one clear call to action in each message?
Functionality:
Do your links and donate pages function properly?
Blog:
Do your posts sound like they have a consistent voice?
Are you publishing posts on a consistent basis using an editorial calendar?
Are you speaking to your target audience and giving them information they care about?
Social media:
Are your avatars across all your social media platforms the same? And do they match the branding on your website?
Stats:
Do you measure your website and social media progress/analytics on a monthly basis?
Spending a day focusing on your marketing is like a reset button! It will give you the clarity to set goals and make a plan for the new year.
If you need help assessing your marketing from 2014, to ensure an even stronger 2015, I'd love to help. Email me to schedule a free 30-minute consultation.