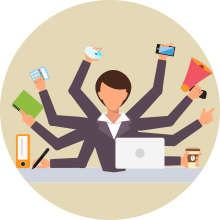 As nonprofit marketers, my clients are pulled in so many directions.
They have hectic workloads and seemingly never-ending lists of priorities.
Over the years, I have found that the organizations who are most effective with design and marketing are also the best at navigating, organizing and streamlining their workloads. Overwhelm is rarely a good place to create effective marketing materials from.
Even for the busiest nonprofit marketers, creating an organized workflow is possible. In my recent guest post on the Nonprofit MarCommunity, I share tips for managing overwhelm in the nonprofit workplace.