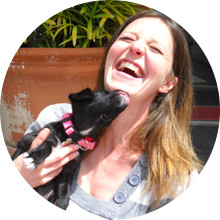 Marcie Grube has been a social media expert in both for-profit and non-profit organizations for nearly a decade. Her current social media work for Helen Woodward Animal Center includes: Blue Buffalo Home 4 the Holidays, the Surf Dog Surf-A-Thon and the worldwide viral pet adoption awareness campaign, Remember Me Thursday. She is a cornerstone speaker at Helen Woodward Animal Center's 'The Business of Saving Lives' Conference and workshop series. Marcie also oversees analytics reporting, social media staff training and development and e-newsletter marketing for the Center.
Marcie enjoys teaching social media theory to pet adoption and animal welfare organizations, empowering them to voice and share their unique missions to online partners, supporters, adopters and donors.
Her favorite quote explaining her philosophy on social media: "I've learned that people will forget what you said, people will forget what you did, but people will never forget how you made them feel." – Maya Angelou
Q: What role does social media play at Helen Woodward Animal Center?
A: Social media plays many roles here at the Center: it promotes and helps us share stories of our adoptable pets, is a conduit for connecting with and supporting our community with their pet-related needs and is also an educational tool which helps us teach how anyone, big or small, young or old, can help pets in need.
Q: Are you a one-person social media department?
A: Technically, from 2010 through the end of 2014, I was! However, I teach our staff and volunteers that social media and story-telling is everyone's job. I want to share their experiences and how they help animals and people here at the Center. By sharing their interactions and experiences, I hope to empower more people to do the exact same thing!
Q: What advice do you have for one-person nonprofit social media departments?
A: Use your staff and volunteers! Tap their skills, hobbies and creative energy! I rely on everyone here at the Center to share our mission of being a place where 'people help animals and animals help people.' Drawing, photography, creative writing, or painting can all help tell your organization's story, too. What skill-sets does your staff or volunteer base have?
Q: How has your social media presence/strategy developed over time?
A: Helen Woodward Animal Center's social media presence is a reflection of our face-to-face or telephone interactions with the community. If someone calls us with a pet-related question, we try our best to answer that question or find someone who knows the answer. It's the same experience with our social media interactions. All questions and interactions are personally attended to in a timely manner. We don't have a budget for social media – so we do all we can to create friends through cultivating real friendships on all our platforms.
Customer service through social media has always been a top priority for the Center. However, our strategy has changed through the times with the ever-evolving world of digital communication. We take a "quality versus quantity" approach when creating content to share with our social media friends. We also ensure that all content reflects the Center's mission and purpose.
Q: What affect has it had on awareness, adoptions and donations?
A:  It's done wonders for our awareness! Since we take great care with our community, the Center is often thought of as the "go to" resource for pet related questions or needs. I love that people tweet questions to us! Or post on our Facebook page with an update on a pet they adopted from us. They know we take all interactions with our community seriously – and that we enjoy it, too!
Since we're a trusted pet related resource, both online and off, it's been also great for our pet adoptions and donations, too. People want to give and adopt from an organization they know and trust.
Q: You recently had a really clever campaign called CHIchella, held over Coachella weekend in an effort to increase the adoptions of Chihuahuas. Can you tell me how you the idea came about, the execution and end results?
A: [This answer is from our PR Assistant, Mindy Wright, since it was her brainchild!]
We're always trying to pair promotions with themes that the media is already talking about. Chihuahuas are a breed we see a lot of at our facility. They are wonderful dogs, but they have an image issue so we're always trying to find ways to talk about what makes the breed special, and truly perfect for some adopters. Coachella was the talk of the town, and Chihuahuas make great pets for the young, busy, social age group that was already talking about the festival. We took photos and video of our Chihuahuas dressed up in festival gear and playing to promote the 'event' using social media as well as a press release. For the weekend, we had groovy music playing in the kennel area, we decorated the Chihuahua kennels, made a special 'festival' meet-and-greet pen, and had a special photo backdrop. People really responded! We increased overall visitors to our facility and even exceeded our goal of 10 by placing 11 Chihuahuas in forever homes.
Q: Any other campaigns or posts success stories that you'd like to share with us?
A: We kicked off 2015 with a huge success story thanks to the great working relationship I have with our Public Relations team. In November, 2014, the Center took in and cared for ten husky puppies who had been orphaned when their mother was shot and killed. We shared their story through social media and our monthly e-newsletter. However, one tweet about their story to a local news anchor set off a firestorm of traditional earned media. That anchor came down that very day and filmed a news story about the puppies, with the help from our PR team. That anchor then returned a couple weeks later to do a follow-up story when the puppies were old enough to be adopted.
On the eve of their being available for adoption, we had one family spend the night in a tent on our walk-way to ensure they would be first in line to adopt one of those puppies! We also had a line out to our parking lot with interested families who saw their story both online and on that news station. By working together through all types of media, on all different types of platforms, we created a complete story campaign that brought a lot of awareness and footsteps to the Center.
Q: For fellow nonprofit social media managers who may struggle with coming up with campaign ideas to increase awareness and support do you have any tips or advice you can offer them?
A: Learning how to use a content calendar saved my sanity! It's so hard to sit down every single day and create creative, engaging, funny, empowering, inspiring, ground-shaking content. Instead, I take a half-day each week to be my "creative day." I close my email, turn off my phone and put myself in my creative mindset to create content during that time. I sketch out my week in a spreadsheet and plug in my content ahead of time – that way I'm not forced to always be in that imaginative frame of mind all the time. Once I schedule my content for the week, that leaves me with the rest of the week to focus on engaging and responding to our fans, which is what I really enjoy doing.
Q: How do you measure and track success?
A: We use all kinds of data! Twitter analytics, Facebook insights, link tracking and Google analytics…
I'm always looking at data from those sources, but also rely on some other data points. For example, "likes" and "shares" are wonderful but I'm more concerned with conversions and conversations. How many people engaged with our story, then went on to look at our adoptable pets? How many people clicked the "donate" button and completed a donation conversion after seeing a video? How many people took the time to comment about the story they read? And my most important data point: how many people did I help or connect with today?
Q: What are the three most important tasks a nonprofit social media manager should do on a daily basis?
Let your staff and volunteers know how important they are in telling your organization's story/mission on social media. At the end of the day, I just process what they see and hear into images, text or video, and share it online –

they

are the real story-tellers. Help them tell their stories as best you can!
Be respectful of your fans. Sometimes the Center rescues pets from horrible and sad situations. Instead of sharing horrible, shocking images, I frame those stories to be empowering and inspiring. Every single one of us is fighting our own personal battles and I want to help support our community, not make someone feel depressed or sad.
Be authentic. It's ok to be a human being on social media! As social media people I think we we get caught up in having to have everything looking and sounding perfect. And while it's important to create quality content, it's ok to have a sense of humor when it's appropriate and make people smile, too. Be yourself! We're in the business of making friends!
Q:  What tips would you give to a nonprofit wanting to improve their social media marketing?
A: Bottom line is it takes time. Social media is about building trust and that doesn't happen overnight. If you start a new platform, or revamp an old one, know the time investment you're getting into. Take your time and be consistent. It's ok to be the tortoise. Tortoises are awesome anyway!
Also, know the demographic you're talking to. Each platform appeals to a different demographic, do your homework to know who you're connecting with and how they prefer interacting with the digital world.
Q:  What is one or some of the biggest challenges you faced when you started working on the social media presence at your organization? And how did you overcome them?
A: For nearly five years, it was just me overseeing the social media presence of the Center. There was always a million things going on and it was hard to be everywhere at once to take photos or get the story. For a while, I was too afraid to ask our staff and volunteers for their help because they were so busy doing the work of caring for our animals, helping clients or directly interfacing with the public. What I realized is that a lot of our staff and volunteers really want to share what they see and do, it isn't a burden for them because they know their story can inspire others to help pets and people just like they do. After I learned it was ok to ask for help my job got a whole lot easier, and fun, too! In early 2015, I was also given a part-time assistant to help me process all the photos and stories, as well. Asking for help really does work!
Q: Like most nonprofit marketers I'm sure you wear a lot of hats at your job in addition to your primary responsibilities, how do you manage and balance your busy schedule?
A: One thing I still struggle with is checking social media platforms at home or on vacation. It's so easy to just "pop in" on one's phone to see what's going on. Instead, I communicate when the Center responds to comments and questions clearly:
During weekday business hours, my goal is to respond within an hour if someone has a question or needs help.
During weekends, I respond first thing Monday morning.
This communicates the public's expectation on when we will respond to them and also gives me boundaries so I can balance my home and work life.
Q: What three books, podcast, blogs or tools do you recommend to someone wanting to learn more about social media marketing?
A: I really enjoy Jay Baer's Convince and Convert blog. Plus he sends a daily email with a few, bitesize tidbits of social media marketing help that are easy to digest on a busy day.
I utilize Kivi Leroux Miller's approach on calendaring. Very helpful! Plus she focuses on non-profits. (Also has a great book!)
And Brian Solis is very validating on how to be a human being on social media! We're in this to make real connections and friends, I love that personal approach in a digital space.
Want to be considered for an upcoming Q&A? Or know someone who would be a great candidate? Send me an email.