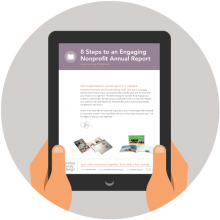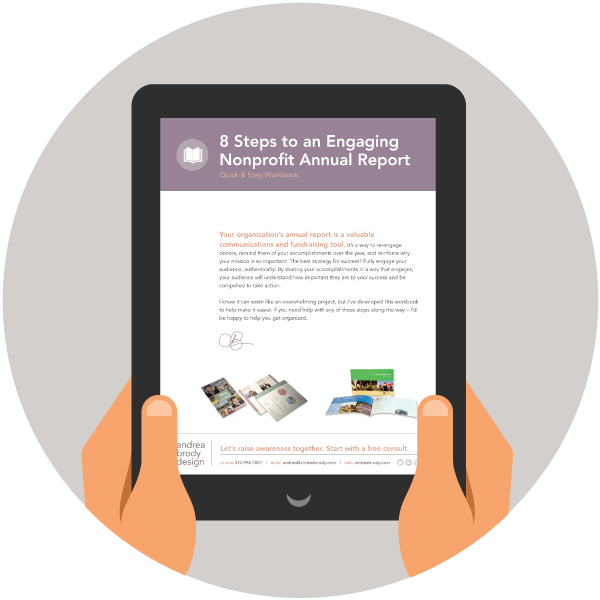 What if you had a marketing tool that communicated the value and unique message your organization has to offer, while at the same time driving traffic to your website and growing your email list? A good ebook can do that for you. And today I'm going to tell you how.
Your organization has a lot of information to get out; one way to do this is through an ebook. What is an ebook? It's an electronic book that is downloaded from your website and read on screen—and the subject matter can be any unique message you'd like to share with your audience: a special report, case study, guide or inspiring story.
Here's where the marketing comes in! Through a blog and social media posts, you then promote the ebook. This drives traffic to your website and grows your email list (because everyone downloading the ebook opts-in to your list). Now that's the overall process, but I'd like to share some tips to help you make your ebook excellent.
Interactivity
One of the main goals of your ebook is to drive traffic to your website to gain more awareness and supporters for your cause. Interactivity in the ebook is key for this. I like to include three important elements:
Social Sharing: Incorporate interactive social icons on every page that link back to the ebook page on your website. Use interactive "tweetable" pull quotes to encourage readers to tweet about your ebook.
Video/Audio: Include videos and/or audio that relate to the topic of the ebook.
Drive Traffic: Where the content of the ebook relates to a specific page on your website, link to that page to drive traffic there.
Look and Feel
Since your ebook is being read on a screen, make the content more visual and graphic than wordy. Use bullet points so readers can quickly grasp the message. Use a larger font size and generous line spacing. Less is more; keep the page clean with plenty of white space.
Printer/Mobile Friendly
While this ebook is meant to be read on the screen, some people may print it out. Do a test to make sure it looks good printed. Also, test the readability on a mobile phone. You may find you need to make some adjustments so the document is readable in all formats: computer, mobile and print.
Consistent Branding
Keep the look of the ebook in line with your organization's branding standards. Consistent branding promotes recognition, creates clarity and helps your audience feel good about connecting with you.
Call to Action
You've provided valuable information to your audience about your organization; now let them know what you would like them to do next. Give them a clear call to action.
Here's my call to action! Check out my ebook, 8 Steps to an Engaging Nonprofit Annual Report. It's a quick & easy workbook that will help you ensure your annual report compels your audience's support.
And if you'd like help creating an excellent ebook, let's talk.