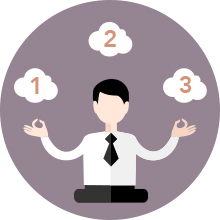 Sometimes when a new challenge or big project comes up, it can seem really overwhelming. Especially when it lands on your plate unexpectedly and you don't have a plan or a process in place to deal with it. Similar to my experience on a recent hike (which was very steep and rocky!), your first instinct may be not knowing where to start. But, when I focused on one-step-at-a-time, my hike turned into a relaxing journey and I was rewarded with an unbelievable view. Marketing and design projects work the same way.
Here are three steps for taking the stress out of your next big project:
Remember your 1, 2, 3s. Break the project down into smaller manageable tasks, then number each task in order of priority. (If necessary, delegate some of the responsibilities to other team members.) You'll have a neat and orderly roadmap, all in one place, that makes an overwhelming project much more manageable.
Cushion your deadlines. Good work takes time. Give yourself the appropriate amount of time for each task so you can thoughtfully consider the strategy and implement carefully. It's also really important to pad your schedule; things usually take longer than we originally planned—so instead of feeling pressured by giving yourself too tight of a deadline—factor-in extra time.
Make meetings matter. Does the thought of going to another meeting make you want to run and hide? It doesn't have to. Start a culture of having productively-run meetings at your organization. Each meeting should have an agenda (including a time schedule) that attendees receive in advance; everyone can come prepared to have productive discussions that produce solutions by the meeting's end. Check in with attendees before concluding the meeting to make sure they are clear on next steps. Then keep them accountable and follow through.
Adopt these steps, and before you know it, you will get through your project successfully. Your reward will be a job well done with less stress.
Want to put a system in place so projects run smoothly, big or small? I can help. Let's talk about how.