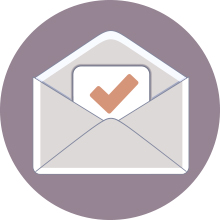 Over the summer I received a lot fundraising appeal letters. Many of them were too disorganized and cluttered to read, but there was one that immediately stood out as soon as I opened it; it instantly made me smile. The way it was written made it enjoyable to read. I even read the whole thing more than once!
The appeal that captured my attention this summer was the Fast & Furriest campaign by the Volunteers of the Burbank Animal Shelter (VBAS). I must admit I do have a personal connection to VBAS. I adopted my amazing cat Grayson there last November. They took great care of him. I had a wonderful adoption experience and the compassion for animals that I saw firsthand continues to show in this appeal.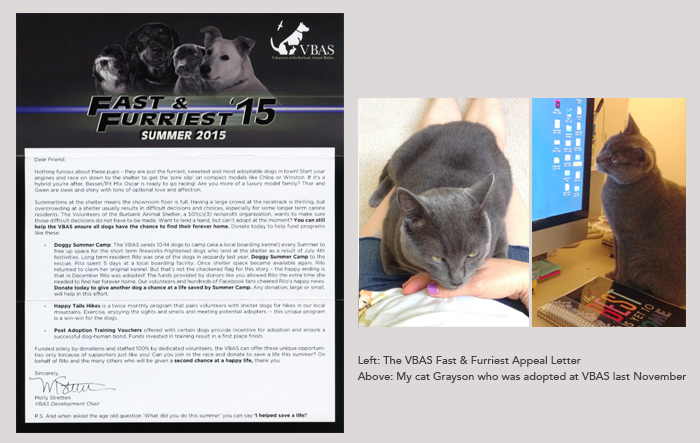 What stood out? I think this appeal excelled because it:
Captures the eye. The letter immediately draws you in with the header photograph and title. It is a clever (and relevant) theme that is carried throughout the letter. The shelter is located in Burbank, CA—the location of Warner Bros. and Disney Studios. Los Angeles in general is home to many people in the entertainment industry. The Fast and the Furriest theme is fitting for the location and audience. What type of theme would be relevant for your audience?
Gets right to the point. The paragraphs are short and easy to scan. The letter is well written, concise and engaging. It contains all the important information the reader needs to know—all on one page.
Tells a heartwarming story. They've made a heartbreaking subject heartwarming. It's been said that donors give with their hearts not their minds. The theme and story in this letter (where they use cute comparisons to cars) lightens the subject matter and makes it heartwarming. Even with tough subject matter, there can be a feel-good approach that encourages smiles and donations.
Shares where the donations go. VBAS clearly explains the programs that your donations will go to and what those programs do. You know how your donations are making an impact—that's so important.
Shows a specific, positive outcome of donations. They tell the story of Rilo, who was adopted after she attended the Doggy Summer Camp program. The funds provided to that program gave Rilo a place to stay when her shelter got overfilled (and the extra time she needed to find her forever home). It shows that that you can be the hero if you donate; in the past, a donation saved a dog's life.
I know the process of creating a year-end appeal can be overwhelming—but just one good example can inspire you! No matter what type of appeal you're creating, these 5 elements are smart ways to stand out.
If you need a partner to help you create a heartwarming and successful year-end appeal, I can help. Let's talk about how.
P.S. Feeling inspired? Here are some great resources for your year-end fundraising efforts:
How To Decide On Your Theme And Messaging For Your Year-End Appeal:  The Storytelling Nonprofit
My Top 5 Tips for a Profitable Year-End Campaign:  Gail Perry
The 5 types of donors you must inspire with your year-end appeal:  Big Duck
How to Write Amazing Year-End Fundraising Appeals:  Network for Good